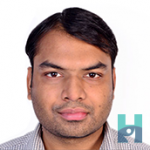 Ankylosing spondylitis: symptoms and causes
What is Ankylosing Spondylitis?
Sitting and working on your laptop for a large portion of the day and going without any physical activity can take a toll on your body and bones. 
Dr. Anshul Goyal will shed light on Ankylosing Spondylitis, its causes and treatments to help highlight such risks.
What is Ankylosing Spondylitis?
Ankylosing Spondylitis affects the sacroiliac joints and the spinal cord. It also causes pain and swelling in your lower back joint causing dysfunction or stiffness. It mostly happens to men less than 45 years of age. One can experience pain in the neck, chest, sole of the feet, also called the plantar fascia, red eyes and inflammatory bowel disease. Some people also experience rashes.
The ways to diagnose Ankylosing Spondylitis stated by Dr. Anshul were, increased ESR CRP in the body, with an X-ray if the sacroiliac joint is blurred or fused, some people might be positive for the HLA-B27 gene. One of the most common ways to diagnose this disease is to detect swelling in the sacroiliac joints with an MRI.
Dr. Anshul Goyal says that many treatments and medications are available today, such as Anti Inflammatory medicines like Diclofenac, Celecoxib and Indomethacin. According to him, Sulfasalazine works the best in 20-30 percent of people. One can take Methotrexate for swelling or pain in any other joints. 
Dr. Anshul Goyal states that with the introduction of new biological medicines, the treatment of Ankylosing Spondylitis for people who couldn't sit or stand properly has been completely changed. Medicines like Infliximab, Golibumab, Adalimumab, etc. that are called anti-TNF medicines are primarily used for the treatment of this disease. 
Dr. Goyal also suggested some self-care tips, including regular exercise, Spinal extension exercises, Pranayam, Surya Namaskar for the mobility and flexibility of vertebrates and the spinal cord. 
He says Ankylosing Spondylitis can be taken care of by doing necessary physical activities like swimming, cycling or fast running. 
Taking meds on time, regular check-ups and physical activities can help against Ankylosing Spondylitis.